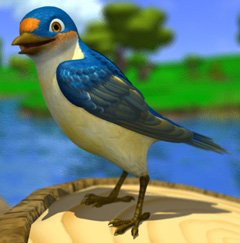 Martin bird was created as an R&D test, to see if it was practical, and even possible, to have an animated bird character with realistic, working wings.
This technique has since been used for a number of characters including some birds for the Animated Kids Bible, and the pigeons in Scragg 'n' Bones.
You can read about the making of Martin Bird at the WIP thread at CGTalk, where it also won a prestigious CGTalk Award.