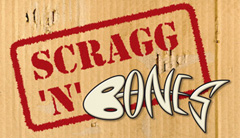 Scragg 'n' Bones is an new property for children I developed with Pixel Animation Studios, featuring the voices of Richard Hammond (Top Gear), Adam Hills (Spicks and Specks), Dave Fulton and more.
The show centers around Scragg, a playful stray puppy who lives in an alley behind a chinese restaurant opposite the apartment of Bones, a neglected, cynical old cat.
I helped develop the concept, and created the characters, teaser trailer and 7 minute pilot episode. As Animation Supervisor I assisted with direction, hired the animation team and oversaw all the animation. I designed and created the characters and a significant amount of the set, and animated about 80% of the pilot, as well as doing all the lighting and render preparation.
Click here to see more from the pilot episode.