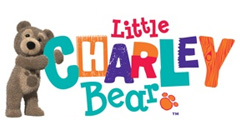 Little Charley Bear is an new preschool property I developed with Annix Studios. The TV series, produced by Chapman Entertainment, is airing on CBeebies, ABC Kids and more in 2011.
I established the initial style for the show, designed and created the character Little Charley Bear, designed and created all the sets and props for the pilot, and animated the pilot episode.
"[T]his pilot... was one of the most impressive things I'd ever seen and I just fell in love with Charley"
KEITH CHAPMAN, creator of Bob the Builder, Fifi and the Flower Tots and Roary the Racing Car
Contact me for more information or to see the pilot episode.