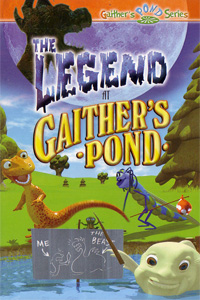 The Legend at Gaither's Pond is the 4th DVD in the Gaither's Pond series produced by Live Bait Productions.
I was given the opportunity to re-design and create the sets for the series (under the condition they rendered in the same timeframe as the previous sets), and to design and create the two new sets needed for this DVD. I was also asked to create the new character for the DVD, Taylor the salamander, and some props. I also animated a few scenes on the DVD shown below.
Click here to see Taylor and my updated versions of some of the characters (created for the DVD after this one).