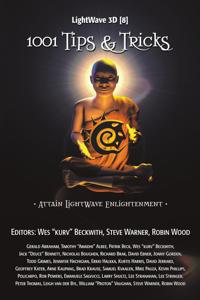 LightWave 3D [8]: 1001 Tips & Tricks brings together thirty-one masters in the fields of character modeling, animation, texturing, lighting, digital cinematography, special effects, and programming to provide a myriad of helpful tips for all levels of LightWave users. Whether you've just started using LightWave or you've been using it for years, this book of collective wisdom will show you how to achieve better results in less time through a combination of hidden software features, time-saving tricks, and professional techniques.
The 1,354 tips cover every aspect of LightWave, including configuration, modeling, texturing, staging, lighting, animating, special effects, rendering, compositing, scripting, and troubleshooting. Additionally, one of the chapters (and the companion CD) contains illustrations demonstrating the use of LightWave in feature films.
As one of the contributing authors I provided 74 tips covering a range of areas.